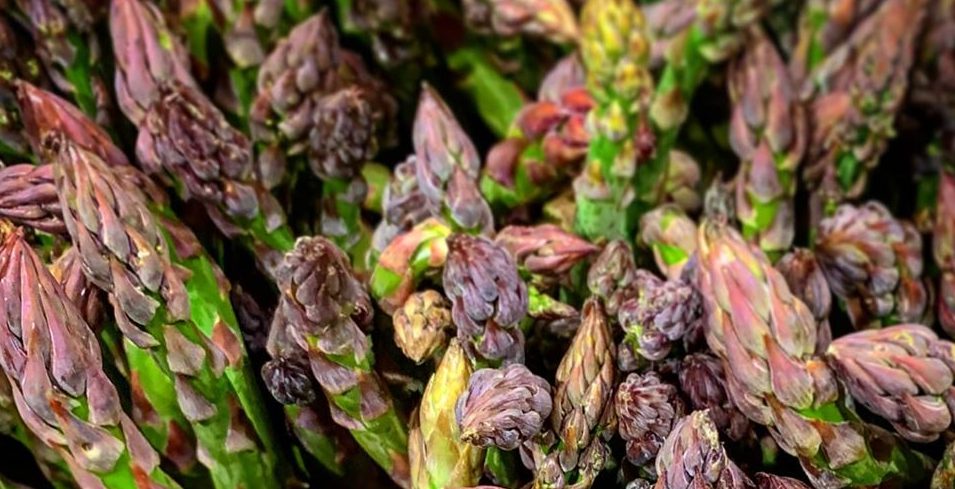 By Annie Stuart, Marketing Manager & Cooperative Foodie
Muir Farm is a local grower here in Bath NH, and like many local farms, a large part of their business is growing food for local restaurants. Unfortunately many of their regular customers have shut down their kitchens due to the pandemic, leaving the folks at Muir in a bit of a lurch with no place to send their lovely bumper crop of asparagus. Fortunately we were able to step in and take some off their hands, and it really is beautiful – crisp green stalks, not too skinny or stringy, with tender tips flushed with pink. It cooks up beautifully on the grill (or in grill-adjacent dishes), so we've pulled together some outdoorsy summer asparagus recipes to get everyone inspired.
A couple techniques to get you started:
You can trim off the tough ends with a knife, but it's better (and more fun) to simply bend each spear towards the bottom 'til it snaps at the natural breaking point.
Asparagus loves dressing, so consider olive oil, lemon juice, and/or italian dressing to snazz it up a bit. Salt & pepper or parmesan lend a nice finish.
High, dry, direct heat and fast-cooking brings out the best in this veggie, which is why it lends itself so well to grilling and broiling.
Grilling can be tricky since skinny stalks will slip through the grate. Skewer multiple spears together crosswise so they're easier to pick up and turn all at once.
Grilled Asparagus
Ingredients
1 lb thick asparagus, rinsed, trimmed, and dried
2 tbs olive oil
1 tsp salt
1 tbs lemon juice
Bamboo skewers, soaked in water for at least 30 minutes (so they don't burn!)
Instructions
Preheat your grill. If you're grilling meat wait until that is finished and put side to rest, then grill your asparagus afterwards when the grill is preheated and very hot.
Place the asparagus in a dish and drizzle your marinade, oil, or seasoning over it. Toss to coat each spear with flavor.
Skewer the asparagus spears in groups of 5 or 6, with one skewer towards the bottom and another a few inches towards the top.
Grill the asparagus over direct heat and cook uncovered until you see char lines. Flip and cook the other side for 2-4 minutes, until you see char marks but the spears are still bright green.
Transfer the finished asparagus on a serving platter and drizzle with lemon juice, salt & pepper, or parmesan to taste.
Asparagus Antipasto
Ingredients
Antipasto
1 lb (1 bunch) fresh asparagus, woody ends trimmed
1 c canned artichoke hearts, drained and halved or quartered
1/4 lb prosciutto, thinly sliced
1/4 lb salami, sliced into bite-sized rounds or pieces
1 c Kalamata olives (or other olives of choice)
1 c cherry tomatoes, halved
1/3 lb sliced provolone cheese
Dressing
2 cloves garlic, minced
2 tsp Dijon mustard
1/2 tsp dried rosemary, crushed or minced
1/4 tsp Italian seasoning
1/2 tsp crushed red pepper flakes
2 tbs red wine vinegar
3 tbs olive oil
1 lemon, zest and juice
1 orange
Pinch each of salt and ground black pepper
Preparation
Blanch the asparagus in boiling, salted water for 3-4 minutes, then rinse with cold water or cool in an ice bath. Drain well.
Zest the orange, and juice half for the dressing. In a small bowl, whisk all of the dressing ingredients together. Toss the blanched asparagus and artichokes in 2 tablespoons of the dressing and marinate for 60 minutes.
Once asparagus and artichokes have finished marinating, arrange the antipasto on a large platter, and drizzle with the remaining dressing.
Serve with fresh crusty bread or baguette slices.
Snow Pea and Asparagus Salad with Ginger-Cardamom Dressing
Ingredients
1 lb asparagus, trimmed and cut into 1- to 2-inch pieces
1/3 lb snow peas, string removed (or substitute sugar snap peas)
2 roma tomatoes, cut into wedges
1/2 head romaine lettuce, torn into bite-size pieces
1/2 c walnuts, raw or toasted (optional)
Dressing
1/3 c vegetable oil
1/3 c apple cider vinegar
1 tbs sugar
1 tbs fresh ginger, peeled and minced
2 tsp fresh ground cardamom
1/2 tsp salt
1/2 tsp ground black pepper
Preparation
Use leftover grilled asparagus, or blanch fresh chopped asparagus in a pot of boiling, salted water for 2-3 minutes, or until al dente. Drain and set aside to cool.
In a medium bowl, whisk together all dressing ingredients.
Add the snow peas, tomato wedges, and asparagus and let sit 30 minutes.
Serve on a bed of Romaine lettuce, drizzled with any remaining dressing and garnished with walnuts.