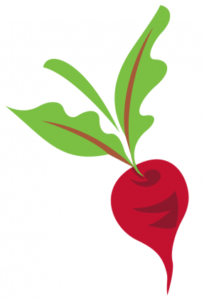 It's not just a cute little root vegetable in our logo – The Radish is our in-store publication that includes articles, updates, stories, sales, promos, and community happenings here at the Co-op!
The Weekly Radish
On Thursdays, we email The Weekly Radish newsletter to our subscribers, along with a sneak peek of our upcoming sales. Subscribe here!
We also publish a print edition of the Weekly Radish bright and early on Friday mornings, alongside our full sales flyer. Printed copies are ready to grab & go right in our entryway, or save a tree and read the latest edition online.
We also share articles and posts from the newsletter on our blog, so you can read them anytime.
Special Edition Radishes
We also publish three themed special edition Radishes each year. The Membership Special arrives in April, which includes everything Co-op members need to know about Board Elections, our Annual Meeting, community outreach programs, member benefits, and more. In the summertime, we produce a Local Food Guide featuring all of the local products that we currently carry here at the Co-op, along with inspiring articles and local recipes. And in late Fall we publish our Gift Guide, so that you head into the holidays prepared for cookie baking, gift-giving, and family gathering fun.
The Latest Radish is Here!
The Radish Archives
The Membership Special (Spring 2023)
Autumn 2019-20 & Winter 2020 Issue