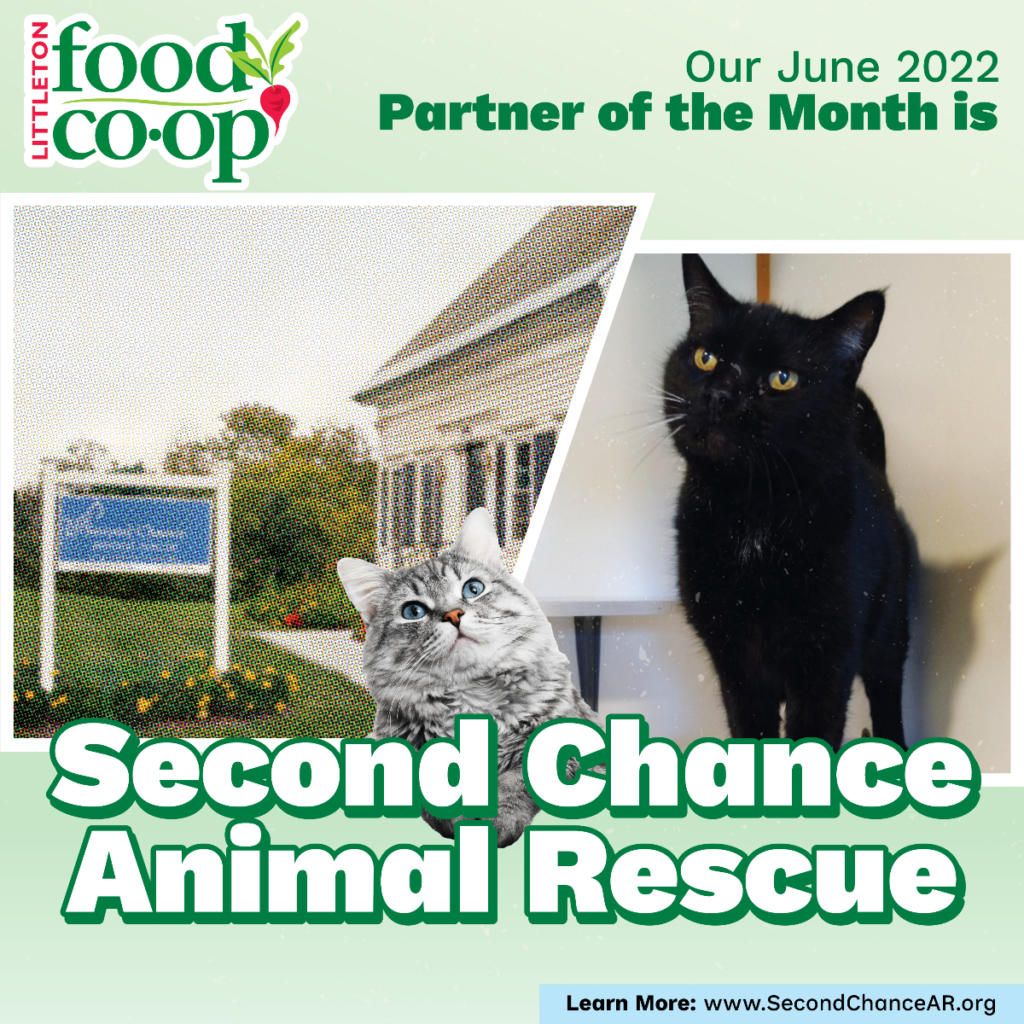 Round up at the register in June to support local kitties in need!
Second Chance Animal Rescue takes in hundreds of cats and kittens each year, from a variety of places and situations. Most of the animals need to be spayed or neutered before they can be adopted, and some have medical issues or need surgery as well. Income from adoption fees doesn't always cover these costs, which can be hundreds and hundreds of dollars – so every extra penny helps!
Second Chance will use the money raised in June to help cover the veterinary bills and medications for the homeless cats and kittens in their care. They currently have quite a few wonderful cats that are being treated before they can go to a new home. This includes Camille, who was abandoned and is missing an eye; Tibbs, who was a stray and is being treated for a painful sore on his neck, and Chloe, who has a large rash on her tummy requiring meds and antibiotics. Your donations directly help every one of these cats and more!
About our Partner of the Month Program
Through our Partner of the Month Program, the Littleton Food Co-op sponsors a different local non-profit each month of the year. All of our Partners are locally focused, socially and environmentally responsible, non-political, and secular. Partners are chosen by our Members by popular vote, and each organization typically receives anywhere from $3,000 to $6,000.
We help to raise funds a number of ways:
Round Up: Customers paying with a credit or debit card may round up their purchases and the balance goes directly to the Partner of the Month.
Donation collection boxes with partner branding are placed at each register.
Messaging about our partners is included in our weekly e-newsletter, social media posts, on our website, and in our weekly newspaper ads.
Posters and flyers are displayed on our Community Board and around the store.
Opportunities to meet our members, including info tables, grocery bagging, and other events.
Meet the 2022 Partners of the Month!
The following organizations were chosen by our Members to be our 2022 Partners of the Month:
January – North Country Beekeepers Association
February – Mt. Eustis Ski Hill
March – Women's Entrepreneurial Network (WREN) & NH Farm to School
April – Littleton Area Senior Center
May – Adaptive Sports Partners of the North Country
June – Second Chance Animal Rescue
July – Boys & Girls Club of the North Country
August – Above the Notch Humane Society
September – The Colonial Theatre
October – Littleton Co-op Community Fund
November – Local Food Pantries
December – The Bancroft House
How Our Partners Are Chosen
Meet the 2022 Partner of the Month Candidates here!
Each year during the Summer we accept applications from local organizations, and our Members select the final Partners by popular vote. Voting is held online and we have paper ballots available as well. Only full or partial Members may vote by casting a ballot, and one vote is allowed per Membership.
The organization with the most votes gets first choice for their preferred month. Then the next organizations choose their preferred month, in the order of votes earned. We divide the organizations into categories each year so that there is a diverse variety of groups being supported; if any categories are not represented we choose the organization with the most votes within a category and add it to the final list.
We reserve months to raise funding for the Littleton Cooperative Community Fund as well as area food pantries. In the event of an emergency situation that needs funding, we will contact the Partner for the month to see if they are willing to forfeit Round-Up earnings for three days.
Please note that organizations may not be a Partner of the Month for more than 2 consecutive years, but are welcome to apply in the third year.
If you have questions about our Partner of the Month Program or would like to apply, please contact our Community Outreach Coordinator, Becky Colpitts, at bcolpitts@littletoncoop.org
Apply to Become a 2023 Partner
The deadline to apply for our 2023 Partner of the Month Program is August 12, 2022. If you're interested in finding out more about our program or would like to become a Partner, please e-mail bcolpitts@littletoncoop.org.
The Application Process
Each year our Members choose 8-9 organizations for our Partner program via popular vote. We want our Members to make an informed choice and also learn about the great work being done in our community, so we put together lots of promotional materials about the candidates, post flyers in the store, share posts and videos on social media, include information on our website and in our e-newsletter, and we also offer the opportunity to set up a table during our Partner of the Month Fair.
Partners must be a local 501(c)(3) non-profit, or under the umbrella of an established 501(c)(3) organization in the area. Please note that organizations may not be a Partner of the Month for more than 2 consecutive years, but are welcome to apply again after that.