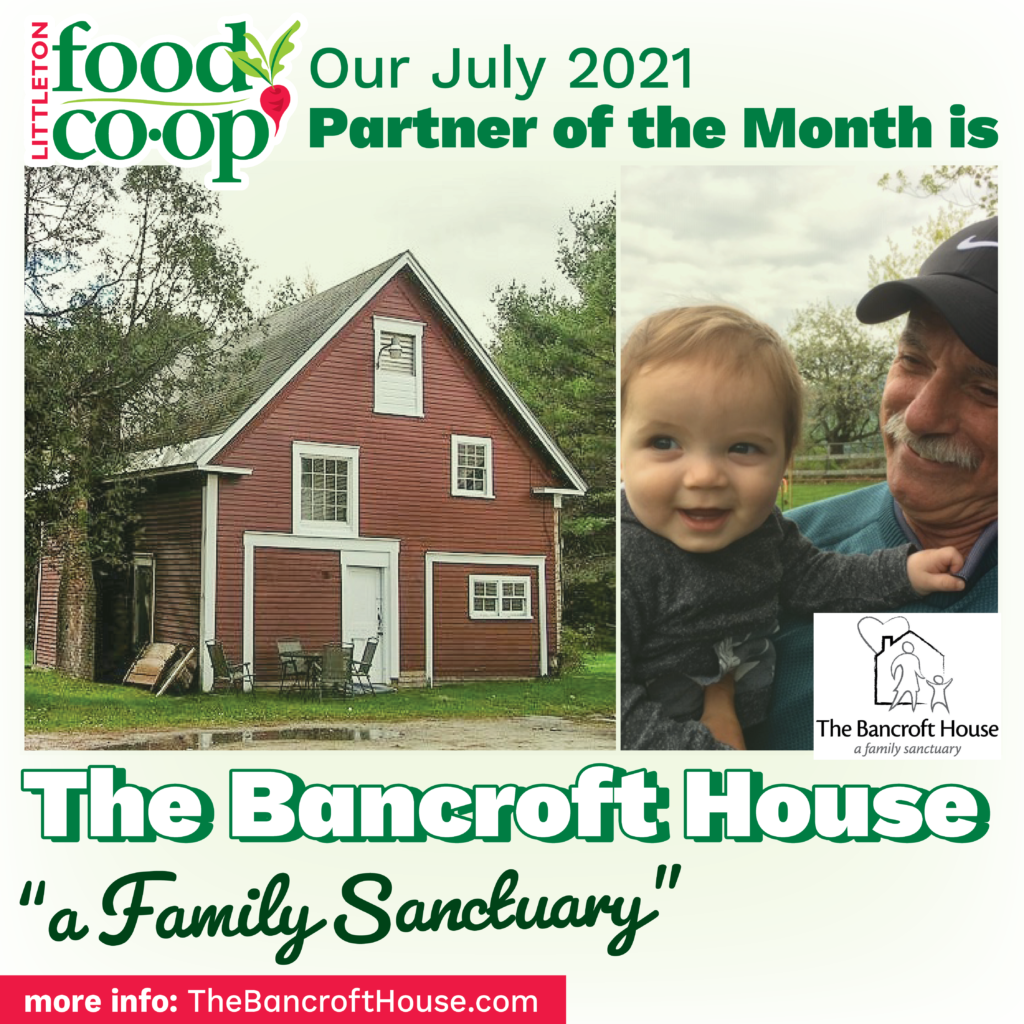 Round up at the register this July to support the Bancroft House!
The Bancroft House in Franconia has provided shelter for homeless people in the North Country since 1982. In the last year and a half we have hosted clients for over 2000 bed nights while they started to rebuild their lives. Those helped are dominantly families with young children and older single women. Most of our guests are referred by TriCounty CAP, Catholic Charities or local organizations such as churches and schools. As we move into our 39th year of service to the homeless and to those without a safety net in times of trouble, we are so grateful for the community's longtime support. Many have regularly given year in and year out. It is that constant sustained support that has carried us through all these years including the year of the pandemic.
Your donations remain in our community providing support to your neighbors. In 2020, 87.9% directly supported Bancroft House residents; 9.7% covered administrative costs; and 2.4% supported fundraising efforts. All of the organization's administrative tasks are managed by volunteer board members.
This past year we provided sanctuary, even during the lockdown, for eighteen individuals, ranging from newborn to 64 years of age. The length of stay varied from one day to 210 days with an average length of 63.7 days.
In January our Board of Directors decided to wait for the performance of the coming vaccines and postponed our new fundraiser, 2nd Annual Cornhole Tournament, and our Barn Project fundraising until 2022. In good faith we could not enter into contracts on either situation until we felt with some certainty that COVID-19 protocols would not cause more cancellations.
Now we hope to celebrate our 40th anniversary in 2022 with renewed fundraising for the everyday operations of the Bancroft House and the completion of the funding for the Barn Project.
The Bancroft House has been here helping hundreds who have come seeking shelter in times of need. Thank you for your support of our on-going mission, providing sanctuary to those less fortunate.
Learn more about the Bancroft House on their website! 
About our Partner of the Month Program
Through our Partner of the Month Program, the Littleton Food Co-op sponsors a different local non-profit each month of the year. All of our Partners are locally focused, socially and environmentally responsible, non-political, and secular. Partners are chosen by our Members by popular vote, and each organization typically receives anywhere from $3,000 to $6,000.
We help to raise funds a number of ways:
Round Up: Customers paying with a credit or debit card may round up their purchases and the balance goes directly to the Partner of the Month.
Donation collection boxes with partner branding are placed at each register.
Messaging about our partners is included in our weekly e-newsletter, social media posts, on our website, and in our weekly newspaper ads.
Posters and flyers are displayed on our Community Board and around the store.
Opportunities to meet our members, including info tables, grocery bagging, and other events.
Meet the 2021 Partners of the Month!
The following organizations were chosen by our Members to be our 2021 Partners of the Month:
Above the Notch Humane Society
Boys & Girls Club of the North Country
The Bancroft House – A Family Sanctuary
Second Chance Animal Rescue
Littleton Area Senior Center
Copper Cannon Camp
Ammonoosuc Community Health Services, Inc
Mt. Eustis Ski Hill
Organized Acts Of Kindness For Seniors (OAKS)
How Our Partners Are Chosen
Each year during the Summer we accept applications from local organizations, and our Members select the final Partners by popular vote. This year our Members will vote from September 16 – 30 2021. Voting is held online and we have paper ballots available as well. Only full or partial Members may vote by casting a ballot, and Members may vote only once per household.
The organization with the most votes gets first choice for their preferred month. Then the next organizations choose their preferred month, in the order of votes earned. We divide the organizations into categories each year so that there is a diverse variety of groups being supported; if any categories are not represented we choose the organization with the most votes within a category and add it to the final list.
We reserve January, October, and November for our Healthy Food Access program, the Littleton Cooperative Community Fund, and area food pantries respectively. In the event of an emergency situation that needs funding, we will contact the Partner for the month to see if they are willing to forfeit Round-Up earnings for three days.
Please note that organizations may not be a Partner of the Month for more than 2 consecutive years, but are welcome to apply in the third year.
If you have questions about our Partner of the Month Program or would like to apply, please contact our Community Outreach Coordinator, Becky Colpitts, at bcolpitts@littletoncoop.org
Apply to Become a 2022 Partner
The deadline to apply for our 2022 Partner of the Month Program is August 12, 2021. If you're interested in finding out more about our program or would like to become a Partner, please e-mail bcolpitts@littletoncoop.org.
The Application Process
Each year in August our Members choose 8-9 organizations for our Partner program via popular vote. We want our Members to make an informed choice and also learn about the great work being done in our community, so we put together lots of promotional materials about the candidates, post flyers in the store, share posts and videos on social media, include information on our website and in our e-newsletter, and we also offer the opportunity to set up a table during our Partner of the Month Fair.
Partners must be a local 501(c)(3) non-profit, or under the umbrella of an established 501(c)(3) organization in the area. Please note that organizations may not be a Partner of the Month for more than 2 consecutive years, but are welcome to apply again after that.