The Littleton Food Co-op Store features a mix of organic and locally produced food alongside brand name and generic label grocery items. You'll find quality products, a knowledgeable and friendly staff, and competitive prices in all of our departments.
PRODUCE DEPARTMENT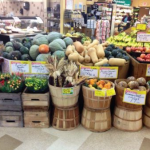 The Co-op offers a huge selection of fresh, local, and organic produce. Since opening our store in May of 2009, we have made it our goal to support as many local farms as possible. Fresh produce is delivered 6-7 days a week. Besides providing shoppers with the freshest fruits and veggies, this allows us to special order something for you, almost always with next day delivery. Our knowledgeable and friendly staff is available to answer questions and help you find the produce you want from open to close.
Did you know we offer party platters & custom baskets? View options here.