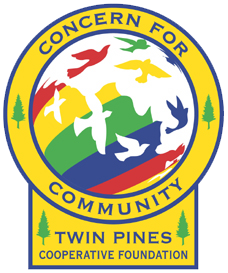 The Littleton Food Co-op has joined the "Give Where You Live Campaign" by creating the Littleton Food Co-op Community Fund. LFC has donated $5,000 dollars to this fund and has received $6,000 in matching funds.
The Give Where You Live Campaign is a national effort to support food cooperatives across the U.S. in building local Cooperative Community Funds.
Sponsored by the Twin Pines Cooperative Foundation, each fund will serve as a means for co-op members and shoppers to make donations to an endowment that donates to local non-profit organizations.
The interest earned by each Fund will be given annually to local groups working on issues relating to sustainable agriculture and organic food; hunger and social issues; environmental protection and cooperatives.
The Give Where You Live Campaign represents each Co-op's special effort to give back to those
deserving–and hard working–groups that build community.
FAQ'S
What is a Cooperative Community Fund?
A Cooperative Community Fund (CCF) is an endowment fund established for each participant co-op wherein the interest earned each year is donated by the sponsor co-op to nonprofits and cooperatives in their community. A CCF is sponsored by a local food co-op and administered within the Twin Pines Cooperative Foundation.
How much have the Cooperative Community Funds donated to non-profits and other cooperatives at this time?
Our sponsor co-ops donated $30,000 to non-profits and cooperatives in their local communities. In 2006 annual donations grew to $15,000. By 2008 the donations reached $100,000 in combined giving.
Who decides where the income earned by our Cooperative Community Fund goes?
Your co-op decides and sends that advice to TPCF. We recommend that each sponsor co-op appoint a committee from among the board, staff and members. That committee is entrusted with the task of deciding which non-profits and co-ops to donate your funds to. We also suggest that the committee also have a role in raising funds from within your community through fund raising activities.
How is a Cooperative Community Fund work with our other community giving programs?
A Cooperative Community Fund is an addition to your existing community giving programs. It may mean over time that you reshape your existing programs so that you present a well defined consistency to your message about community giving. The Cooperative Community Fund program can help you be more purposeful and programmatic about your community giving. Many co-ops run successful programs at the cash register for specific community groups. Many of those programs have been in place for years and are a very important anticipated source of income for those non-profit groups. However, some programs can be modified to benefit the growth of the Cooperative Community Fund. For example, a number of co-ops have a program of asking for donations at the cash register for a particular non-profit each month. A CCF sponsor food co-op might arrange for its own CCF to be the beneficiary of three out of the twelve months. In the end you will be able to donate more funds to the groups you help by building the endowment of your CCF. Or perhaps you donate 10% of the amount raised each month to your CCF. There are lots of ways to build your CCF program. Without needing to eliminate all the existing programs you support.
What is the advantage of food co-ops joining together to operate Cooperative Community Funds?
Acting together will always be more effective than operating separately. Each of our co-ops brings talent to the table. That talent through the CCF partner funds means that we all share the benefit of practicing good fundraising ideas. As the good ideas percolate they can be used by the other partner co-ops. As we grow there is also a sense of togetherness in developing opportunities. Some of this is slow to grow but over time it will be sure to happen.