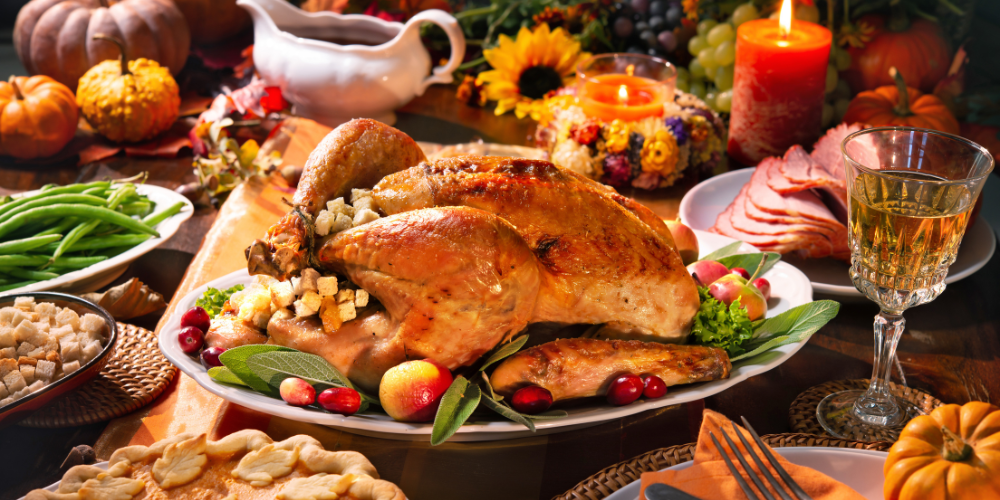 Turkey Orders are now CLOSED. Thank you!
Looking for something special for your holiday feast? Reserve your Thanksgiving turkey online today! We will also have lots of fresh and frozen birds for you to choose from just before the holidays – no pre-ordering required. Just come on in and pick one out!
2023 Turkey Prices
Fresh Turkeys
Mary's Organic Turkey – $6.59/lb
Mary's Free-Range Non-GMO Turkey (Call to Order) – $4.99/lb
Stonewood Turkey (Limited Availability) – $4.99/lb
Misty Knoll Turkey – $4.99/lb
Plainville Farms Turkey – $4.29/lb
Plainville Farms Organic Turkey (Call to Order) – $5.59/lb
Shady Brook Farms Turkey – $2.99/lb
Jennie-O Turkey (Frozen) – $2.49/lb
Fresh Bone-In Turkey Breasts
Stonewood Turkey Breast (Sold Out) – $6.59/lb
Mary's Organic Turkey Breast – $9.99/lb
Mary's Heritage Turkey Breast (Call to Order) – $8.59/lb
Mary's Non-GMO Free Range Turkey Breast – $8.99/lb
Koch's Organic Turkey Breast – $8.59/lb
Plainville Farms Turkey Breast – $6.99/lb
Note: All turkeys are fresh unless otherwise noted. We have a limited selection of Local Stonewood Farms Turkeys. In general, larger turkey sizes may be limited. Sizes are an estimate and may vary by a few pounds; we will provide the closest turkey size available. 
Reserve Your Turkey Online – It's Easy!
Turkey orders are now closed. Thank you!
Fields with an asterisk are required. Once you have placed your online reservation, please do not reload the webpage or hit the back button on your browser after ordering – it will duplicate your order in our system. Thank you!
After placing your online order you will receive an email confirmation, so be sure to check your "promotion", "junk" or "spam" folders. If you have questions about your online order or need to make a change, please email us at info@littletoncoop.org and we can assist you. You may also call 603-444-2800 to speak with someone in the Meat Department, place your order, get updates, or adjust details of your order. We're happy to assist you.