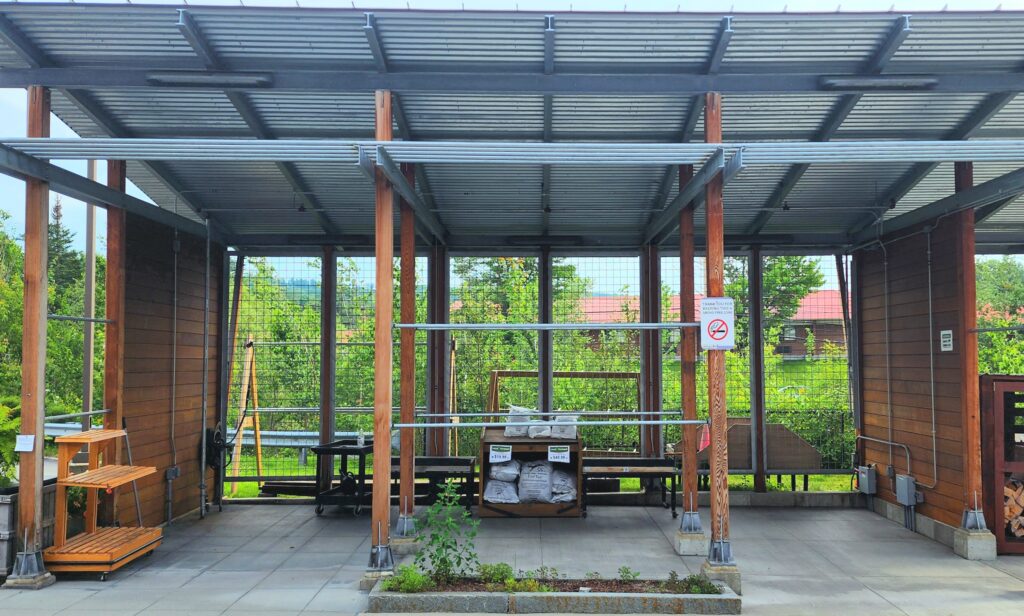 Art, All Summer
We believe in supporting our local creative community! The Co-op Pavilion is open from July through September for local artists, artisans, makers, designers, and craftspeople to sell their work.
Space for Creative Businesses
The pavilion is a large, airy, shaded space directly across from the exit doors to the Co-op. It is sheltered from the rain and sun but is open to the elements. Customers frequently stop by to browse the space before they return to their cars, so it's a great place to show your creations, meet new people, and sell your work.
Open 9-5 Daily
The Pavilion is available for local artisans from 9 am – 5 pm, seven days a week. Artisans may reserve one full day at a time and stay the whole day or just a few hours. We allow one artisan to use the space per day, so you'll have the whole place to yourself. 
Artisans Only
Please note that the pavilion is not intended for vendors who sell collectibles, antiques, vintage items, ingestible items, used goods, services, wholesalers, consultations, resellers, or MLM businesses. Please see our Pavilion Artisan Guidelines (PDF) for more information about how the space may and may not be used.
If you're a local non-profit, non-political, secular organization or club looking to set up an information table at the Co-op, please contact us. We'll put you in touch with our Community Outreach team.
If you are a local food, beverage, or body care vendor, and you're interested in a retail partnership with the Co-op, please visit our vendor information page.
How to Reserve the Pavilion
Review the Pavilion Artisan Guidelines.
Request an available date from the online calendar below.
Fill out the online application, and click on the box indicating that you have read and agree to the Pavilion Artisan Guidelines.
We will contact you to confirm your request and approve your application.
Sign the Pavilion Artisan Agreement before your reserved date. You may download, print, & return it to us or pick up a copy at the Service Desk.
Come on your reserved date, set up your display, and sell your items!
Artisan Guidelines & Agreement
Please make sure you read and understand the Pavilion Artisan Guidelines. You should review this before making a reservation since it includes important information about the space, how it may be used, and what liabilities are involved.
You will also need to sign the Pavilion Artisan Agreement before your reserved date. You may download, print, & return it to us or pick up a copy at the Service Desk.
Helpful Tips
Our team put together these tips and ideas to help new artisans tackle the ins and outs of attracting customers to a display. We're artists, too, with decades of experience doing fairs, markets, and online sales. Keep in mind that the Co-op Pavilion is more like a pop-up shop than a big art market or craft fair with dozens of vendors and shoppers – you are getting the space for free, but it's up to YOU to make the most of it. 
Promote yourself. Post about your pavilion date well in advance on social media and build up some excitement. Let your customers know it's worth their time to make a special trip by offering a discount on in-person purchases, the opportunity to enter a raffle and win some art, or first pick of new or exclusive items.  Or go old school and put up flyers around town.
Bring a sign. We have space to hang a banner, or you may bring an a-frame sign to let shoppers know who you are.
Bring lots of items. You'll make more sales if you have a wide variety of styles, sizes, and price points. In the grocery industry we call that depth – a bountiful selection makes your customer more likely to pick something up. Once it's in their hand, they're more likely to purchase it, or add on related items.
Catch their eye. Your art is amazing, but presentation is key, so ensure your display looks exciting. Use shelves, racks, or stands to bring items up to eye level and heighten your display.  Bring a longer table so items don't look cluttered. Spread everything out on a nice tablecloth, with matching price signs, stands, and your business card.
Actively engage with people. A friendly smile, a wave, and a hello go a long way in attracting customers to your display. You don't need to be pushy, but you do need to make eye contact, move around, and chat with people. If you passively sit in a chair with your head down, potential customers will ignore you.
Other helpful articles:
7 mistakes that kill sales at the show
Artists share their craft fair tips
9 tips to set up a beautiful booth
Craft fair secrets- what to say to potential customers