Please Note: Although our Café is closed for seating at this time, we welcome customers to walk in and view the art currently on display. 
The Co-op Café
(Temporarily Closed Due to Covid-19) Our bright and airy café space is a great place to relax, meet others, and enjoy our cooperative community. You may sit and enjoy a food or beverage after purchasing it from the store, and we offer free wi-fi for those of you that need a place to work and connect. We have clean dishes, mugs, and utensils, plus a sink and microwave for customer use. We also regularly host meetings, events, and classes in the cafe, as well as a bi-monthly art display featuring work by local artists and photographers.
Co-op Art Gallery – Photography by Maisie Gilman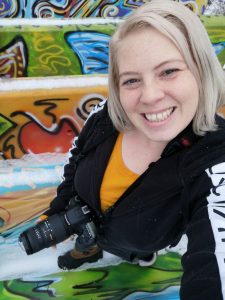 The Gallery is open! We are pleased to feature the photography of up-and-coming local photographer Maisie Gilman. A resident of Vermont, her magical eye for color and composition is imbued in the landscape photos and starscapes being featured in our gallery this winter.
Coming Soon! Meet the Artist: Maisie Gilman (Video)
Throughout January and February 2021 we will have a selection of Maisie's framed prints on display for purchase through the Co-op; 95% of the sale from each artwork goes directly to the artist. You can also view Maisie's photos on her website, May I See Photography, and contact her to commission a photoshoot or custom portrait.
What makes our Co-op Art Gallery different? Besides being located in a bright and busy hub of the community with lots of visitors, we feature only local artwork, and we take only minimal commission so that our featured artists retain most of the profit. Framed artwork makes a lovely gift for the holidays, and buying local art also helps our creative community grow and flourish!
If you are a local artist and would like to display your work at the Co-op, please fill out this form and include a link to your portfolio, samples of your work, and an artist statement or bio.