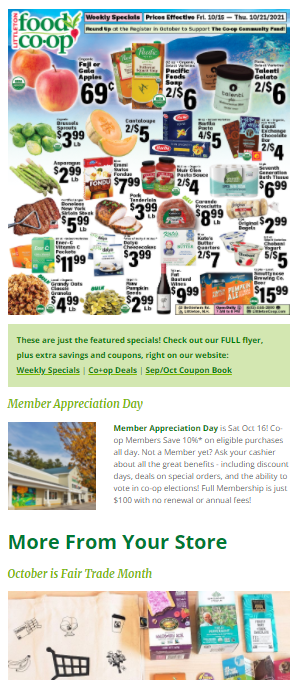 Stay in touch and get the latest updates on what's happening at the Co-op! We take pride in creating fun, informative, exciting cooperative content, and we never send spam or sell our mailing list to anyone. Check out the Archive to view some recent newsletters.
Our Weekly Newsletter
Every Thursday afternoon we email The Radish newsletter to our subscribers, which includes a bit of everything. You'll receive the latest sales & specials, important Member updates, events, product recommendations, recipes, articles, and local community bulletins. You'll also get advance notice of flash sales and limited-time offers, as well as information about product recalls and important safety notices.
Important Member Information
Rather keep the emails minimal? Let us know and we'll send only the most important info for Members, including notices about elections, voting, meetings, and patronage rebates.