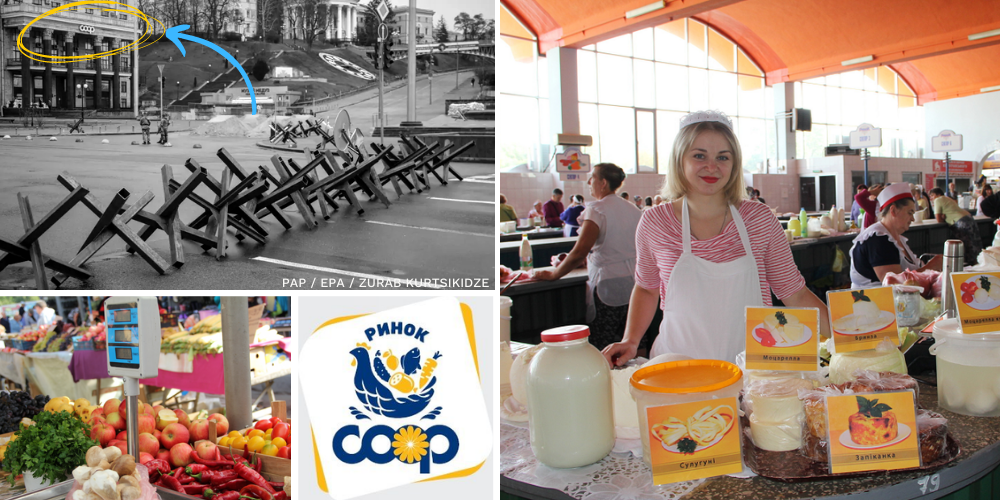 Cooperatives around the world operate according to a set of principles adopted by the International Cooperative Alliance. All people deserve the right to represent themselves democratically (Principle 2) and be free from tyranny or control from others (Principle 4). We also believe in cooperation among cooperatives, which means cooperatives should help and support one another (Principle 6).
Ukraine's Central Union of Consumer Societies oversees a wide range of cooperative services and everyday essentials in many Ukrainian communities. This includes food co-ops just like ours, as well as public media production, education, manufacturing, and essential services. All of these cooperatives are at risk – along with the citizens and communities that rely on them – as long as Russia's invasion of Ukraine continues.
In a show of solidarity, National Co+op Grocers (NCG) has partnered with the Cooperative Development Foundation (CDF) and NCBA CLUSA to launch a fundraising drive to support the Ukrainian cooperative community. Our General Manager and our Board have organized a direct donation of $2000 for this fund, which will directly support Cooperatives in Ukraine. Even better, NCG is matching all donations up to $100,000, effectively doubling the power of our contribution. That's especially critical right now, since many of the towns and cities where people are trapped will need the food, shelter, and services that the Ukrainian Coop provides!
"The sense of support and solidarity we feel from around the world gives us strength," said Illia Gorokhovskyi, board chair of the All-Ukrainian Central Union of Consumer Societies (COOP Ukraine), adding that the country's cooperatives are continuing to serve their members. "Despite these circumstances, consumer cooperatives are making efforts to provide the population with the necessities of life, primarily food, and delivering them to where it is most needed."
We're not actively seeking additional donations at this time, but there are other ways you can help! NPR has compiled an excellent list of organizations you can donate to, and World Central Kitchen is providing fresh, nourishing meals to Ukrainian refugees.