Mozzarella (Motzerella? Mozzerella? Motzer-ell-a? Motorola? Mozzerela? Mozzarella.) is the most popular (official stat) and most misspelled (unofficial stat) around the globe. That being said, there's a high probability you enjoy it, too. But are you using mozzarella to its full potential? It can be consumed at breakfast, lunch, and dinner, and compliment any food group. Read on for inspiration for National Cheese Day (June 4th).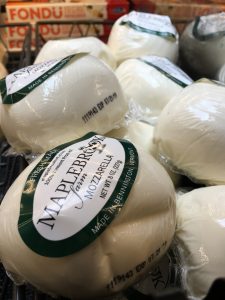 Sandwiches
Cheese is a superstar of flavor, and is more than willing to carry the weight of a recipe if you let it. A perfect example is America's collective childhood comfort food– grilled cheese. The idea itself has a minimum of two ingredients (cheese, bread) but the range of complexity chefs have developed make it more than the sidekick of tomato soup. Check out this recipe that compliments the mozzarella with a fresh basil pesto.
Salad
What's red, green, and white and not a holiday? Caprese salad! This is another dish in which mozzarella shines against a relatively short list of ingredients. The key to making this is to make sure you use the freshest ingredients. While most recipes will look the same, this one has the option to substitute arugula for the traditional basil.
Dip
The words "cheese" and "dip" do not just have to mean fondue. The new trend with cheese dip is deconstructing cheesy foods into dip format. Here's an example: Pizza Dip.  This is a delicious way to enjoy the contents of a whole pizza without the judgement from family and friends.
Sticks
Do you want to eat an entire pound of mozzarella cheese? What if we cut it up, fried it, and served it with marinara sauce? Mozzarella sticks are a classic restaurant appetizer, but that doesn't mean they can't be brought home. The beauty of making them at home is that you can make as many as you want (because we know that the amount the restaurant provides is never enough). Enjoy this recipe.
Garnish
Another part of the versatility of mozzarella is that it can be a star or an extra, aka a main ingredient or just a garnish. Since cheese objectively makes everything better, try adding a sprinkle of mozzarella atop your next soup, salad, sandwich, pasta, pizza, etc.
How do you use mozzarella? Share with us your best ideas on Facebook or Instagram! Need more inspiration? National Cheese Day is every day at the specialty cheese department at the Co-op!