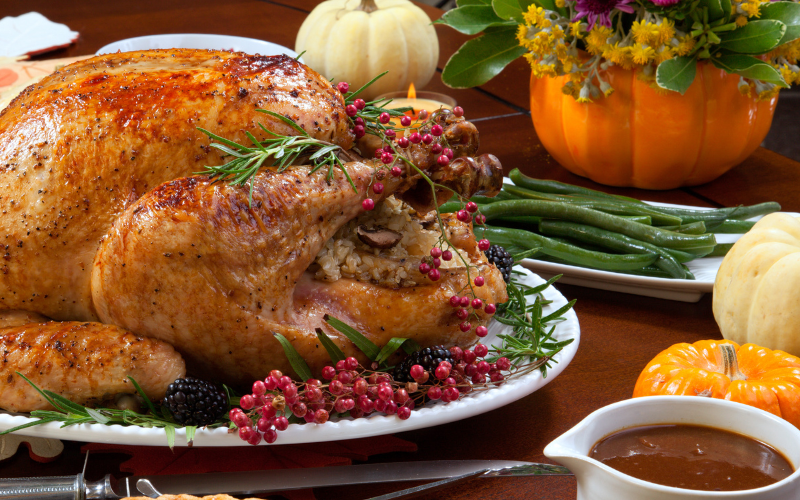 Turkey Pre-Orders 
We are no longer accepting pre-orders for Turkeys, but we do have plenty of fresh, frozen, local, & organic Turkeys in stock.
It's turkey time! Pre-order your Thanksgiving turkey by calling 603-444-2800, or stop by the Meat Department. Fresh and frozen turkeys are arriving for the holidays, but if you have a special bird in mind be sure to reserve it ASAP. If you'd like a locally-raised Misty Knoll turkey please get your order in by Monday November 9!

Thanksgiving Dinners from the Co-op Kitchen
Due to incredibly popular demand, we have SOLD OUT of our Turkey Dinners! 
Planning a quiet Thanksgiving at home this year? We are offering individual turkey dinners to-go, so it's easy to enjoy a traditional feast without all the mess and fuss of cooking at home. Reserve your turkey dinner online here, or in-person at the deli counter, before November 21. You may pick up your dinner at the deli counter on November 24 or 25.
We offer dinners in two sizes:
Turkey Dinner for One: $11.99 (8oz turkey with all the trimmings, for one person)
Turkey Dinner for Two: $21.99 (16oz of turkey with all the trimmings, for two people)
Our Thanksgiving Dinners include a mix of Dark and White Meat Roast Turkey, Herb Mashed Potatoes, Classic Homemade Stuffing, Cran-Orange Relish, Maple Winter Squash, Classic Turkey Gravy, and a locally-baked Mini Pumpkin Loaf from Bonilla Bread. You can also pick up a la carte options from the store, including salads, cheeses, and dessert!