On a large scale, the Coronavirus pandemic has given us hopeful stories relating to how our global slowdown has resulted in positive environmental signs, such as reduced carbon emissions and cities with clearer water than ever before. But on a more individual level, many people are finding their eco-conscious habits interrupted, either by state mandates or by personal concerns about contamination and just how far one reusable really does travel. However, there are still ways to practice environmental sustainability without breaking any laws or making yourself feel uncomfortable. 
Speaking of uncomfortable: It is important to note that we *are* currently living through a global pandemic right now, where self preservation should be of the utmost importance. If environmental sustainability is not at the forefront of your mind right now that is completely and totally okay. Being an eco-warrior is a lifelong journey, and as we know, journeys often veer off their intended path. But the path is always available when you're ready to start again. 
1. Leave your reusable bags in the car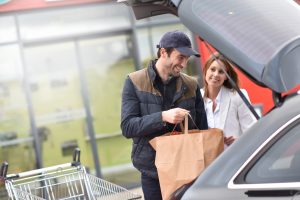 We know, this one sounds a little silly. Isn't the point of bringing your reusable bags into the store to…ya know…bring them into the store? At the time of publication (7/8/20) Governor Sununu's mandate is still in place that no personal or reusable bags can be used in the store. Yes, even if you leave them in the cart. Yes, even if you bag yourself. No bags in the store. So where does that leave us? Our innovative customers have found the perfect way to get around this is to leave your bags in the car, repack your groceries into your basket or cart, and wheel them outside to be packed in the car. It may take an extra minute or two out of your day, but it will save a lot of material from your trash can. Thanks to the genius customers who suggested this practice! 
Feedback on the temporary reusable bag ban? Contact Gov. Chris Sununu at (603) 271-2121
2. Shop in the bulk department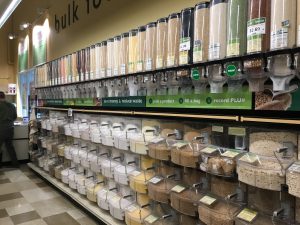 While bags at the front end are a no go, we can still invite (and encourage) customers to use their own containers in the bulk department. The bulk department is where you can get grains, nuts, baking supplies, coffee, and more with zero packaging. All you have to do is get the weight of your empty container; strap on a pair of gloves (available at the bulk section); fill your container with one bulk product; and label the container with the PLU (price-look up) number. You don't have to worry about disposing of the packaging or paying an extra price for the packaging on your favorite staples. 
3. Look for packages with naturally reusable containers
Aside from the bulk department, many other reusable containers sit hidden in plain sight throughout the store. Some are purposely designed to be reusable and will advertise themselves as so. For instance, one popular item is cheesecake varieties that come in reusable glass ramekins. Hatchland Farms offers milk in glass bottles for a $2 deposit; you can either keep the container or bring it back to the store for your deposit and Hatchland will use it again (after sanitizing it of course). There are more reusable containers throughout the store, but you have to be more creative to find them. An old oatmeal container can make an innovative car trash can with a lid. A wine or kombucha bottle makes a thrifty vase. A deli package can be rinsed and used to pack another lunch. The possibilities are pretty far reaching. 
4. Be conscientious about your produce bags
Many of us still retain the mindset from our parents that it goes "pick up a piece of produce, put it in a bag." But, it doesn't always have to be like that. Some produce comes with it's own natural bag, like a peel or a rind that you wouldn't eat anyways. In addition, it is recommended you wash your produce when you return home anyways, which will do the job of a bag in getting rid of any unwanted germs. Another option is to put the produce sold by the each with others sold by the each; for example, avocados, lemons, and scallions can co-habitate. This is not a precursor to us removing the produce bags; they will always be there for those who want them. All we ask is before you reach for that white or green bag you pause and ask yourself, "do I really need a bag for that?"
5. Try making fewer larger trips instead of more frequent smaller trips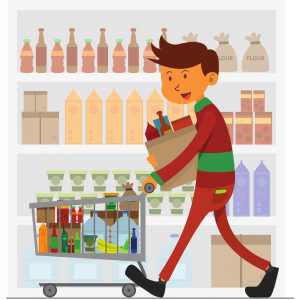 This doubles as a Coronavirus protection tip and a sustainability tip. The easiest way to point out the eco-value of this strategy is in the gas you save driving or otherwise getting yourself to the store. But in addition, think about this: how many times do you get to the cash register and say "I wasn't planning on buying this much?" Pretty often, right? We naturally lean to wanting to fill the basket or cart we have, even if it means through unnecessary items and impulse buys. This isn't fun for your wallet, but it also means more packaging used and potential food waste. Going to the Co-op with the intention of filling your cart means your cart will be a greater percentage of the food you actually need, the minimum packaging required, and you will have to expose yourself to all the people in the store less. Don't be embarrassed either about your cart size at checkout–no matter how big you think your order is, we've seen bigger. 
6. Keep reusable silverware in the car
We've all been there; you enter the store and smell something delectable and you think "I'll just take a glance at the prepared foods section." And 20 minutes later you're walking out with 3 sides, 2 entrees, and a dessert to share. While we're happy to provide you with silverware, a great tip is to keep one or two sets in the glovebox of your car. Keeping some reusable silverware in a pencil pouch or other storage means you're always ready for an impromptu picnic or a new item that just can't wait until you get home. If you are concerned about the spread of germs and bacteria through surfaces, this is also a way to ensure you are the only one handling your eating utensils. 
While these are all tips and tricks for staying more eco-conscious during the pandemic, they can certainly be applied to any moment of your life, or even any retail establishment outside of your local food co-op. What environmental sustainability tricks have you discovered recently?