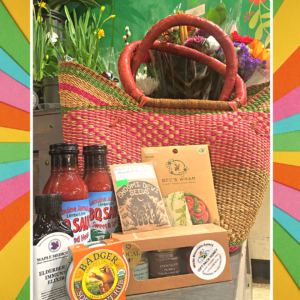 From March 19-25 2023 we're offering a Member Appreciation raffle! This one's for all our Partial Members out there: come by the Co-op and upgrade to a Full Membership – that's 4 shares total – or purchase a brand new Full Membership. As a thank you, we'll give you a raffle ticket for a chance to win a fun gift basket of local goodies!
If you're a partial Member with fewer than 4 shares, you're probably aware that you're missing out on the benefits of a Full Co-op Membership, like the ability to vote in our Board Elections. We encourage you to check how many shares you currently own, upgrade to a Full Membership, and claim a raffle ticket! We want to make sure everyone can vote in our upcoming Election, and this is a fun way to remind everyone to become Full voting Members and help our cooperative democracy happen.
Our grand prize is worth about $130, and includes all kinds of great local products. Here are some highlights:
Genuine Jamaican BBQ sauce, made right across the river in Barnet, Vermont. Check out John Heartson's video, featuring Derrick, the Genuine Jamaican: "In Vermont"
Bee's Wrap is made in Middlebury, Vermont. Infusing organic cotton with a blend of beeswax, plant oil and tree resin, she created a durable yet pliable beeswax food wrap that could be used again and again – helping people be like bees and do their part for the greater good of the planet.
Maple Medicine was created from a desire to establish a natural medicine chest to support holistic family wellness. Made in Montgomery, Vermont.
Badger is inspired to make healing products and run a healthy business where money is the fuel and not the goal, where fun is encouraged, and where they cultivate good through their actions and advocacy. Their facilities are in Gilsum, NH.
Janice Mercieri is a member here at the Co-op, helps run the Seed Library in our foyer, was NH's 2021 Beekeeper of the year, fierce advocate for the environment and owns White Mountain Apiary in Whitefield, NH.
Bhoomi Devi Seeds are grown in Bethlehem NH at Shambho Farm, using homegrown fertilizer and a strict no-till bed management. This beautiful plant sanctuary is operated by Olivia O'Dwyer, Noah Dest, and Mother Nature (Bhoomi Devi). Noah works in the grocery department here at the  Co-op.
(And yes, Full Members can enter too! We won't leave you out of the fun.)