By Jessy Smith, Co-op All-Star, Littleton Local, & Festive Guy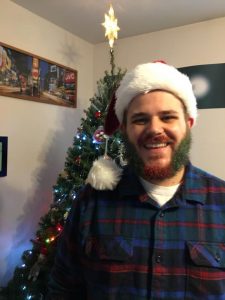 It's taken me 26 years to admit it — and it's absolutely not an easy pill to swallow but here it is: My name is Jessy, I'm a 26 year old Littleton native, and I'm a terrible Holiday Shopper.
I'm the kind of Holiday shopper people like my fiancée Erin, have nightmares about. You probably know my type — It's Seven PM on Christmas Eve, and I'm frantically running around whichever store I've hurriedly run into, hoping with every fiber of my being something that screams "Gift for Dad, forged in the heart of the universe specifically for him, placed directly in my path today because it was meant-to-be" will jump from the nearest shelf and render me unconscious until January 2nd.
Speaking of Dads — This behavior, I've realized, is probably my Dad's fault. Growing up, he was notorious for over-estimating the efficiency of early online retail operations. It wasn't long before I learned that ordering something important on December 22nd, does not a recipe for success make. Should I take some personal responsibility for this holly-jolly procrastination habit I have? Probably. But we can just go ahead and blame my Dad for now. Love you, Dad!
Erin, on the other hand, is the Christmas Industry's dream consumer. Her Holiday shopping season begins the moment we leave the family's house on Christmas Day. There's something mildly unsettling about coming home in the middle of July and finding the person you love most in the world squirreling away already-wrapped gifts for "Christmas, which by the way is coming soon, Jessy! Have you started shopping yet!? You'd better not wait until the last minute again!" Oh my love, if you only knew. We'll get through this gift-laden tragedy.
This guide is designed to help the Jessys and Erins of the world. Do you wait until the very last second (maybe minutes before) the event to grab your gifts? Does your idea of rational human behavior involve hiding Christmas presents around your house in summer months? Either way, this guide is for you!
Littleton Food Co-op Original Canvas Boat Tote
By: Littleton Food Co-op. Coop Made, Local, Sleek as Heck.
These are trying times, friends. As my Grandfather used to say; "There's nothing more comforting in trying times than a bag designed to be sturdy, classy, and fashionable — and if it also promotes a business you care deeply about, well that's just great too, isn't it?" Alright, my Grandfather never said any of that —but it's still true. They're affordable and built to last. Locally produced (Made by our friends at Enviro-Tote in Londonderry, NH).
Good For: Zero-wasters, Waste Reducers, #CoopPeople, People Whomst Need Bags, North Country Folks, Just Visiting.
La Riojana Wines
By: La Riojana Wine Cooperative, Argentina. Fair Trade, Coop Made.
Located in the beautiful Famatina Valley, deep in the heart of La Rioja province with a family of 500 growers, La Riojana is Argentina's largest wine co-operative and is one of the country's top 10 wine exporters, producing a wide variety of awardwinning Fairtrade and Organic wines for markets all over the world.
Good For: The Wine Connoisseur, #CoopPeople, Fair Traders.
Eddie's Bakery Apple Cider Doughnuts
By: Eddie's Bakery, Waterford VT. Local, Delicious.
Local Bakery Powerhouse, Eddie's Bakery — a family-owned joint in continuous operation since 1956 — makes a mean doughnut. These aren't your typical 'donut' style doughnuts, no. These are classic, '59 Bel Airs, doughnuts made the way the great fried creator intended — fresh, homemade, and delicious.
Good For: Serial Snackers, Doughnut Lovers, 59 Bel Air Fans, North Country Folks, #LocalShoppers.
CACOCO Drinking Chocolate
By: La Riojana Wine Cooperative, Argentina. Fair Trade, Coop Made.
"We honor the ancient tradition of preparing cacao as a molten chocolate vitality elixir with wholesome herbs and spices. So, gather your friends and raise your cup to chocolate as it's meant to be experienced! Rather than the standard processed cocoa powder, cane sugar, and milk, we add all organic superfood herbs and spices to our fair trade chocolate blends for an amazing vitality elixir with antioxidants, minerals, and essential fatty acids, as well as a pharmacopeia of bliss inducing compounds that are most present in heirloom cacao varietals from healthy soil. The result
is a euphoric, delicious experience that makes the perfect start to any day, supplementing your coffee and tea time with chocolate as it's meant to be!" TL;DR Hot chocolate of the most-rad order, prepared like the ancients.
Good For: The Chocoholic, Fair Traders, Paleo Peoples, The History Lover, People of the North Country.
White Mountain Apiary Honey Sample Pack
By: White Mountain Apiary. Local. Littleton-made.
Save the bees! Janice and Joe Mercieri keep bees. They're kind of serious about it, with Janice heading up the local beekeeper's guild (see subheading "North Country Beekeepers," Pg. 14). Janice and Joe Mercieri keep extremely happy bees that, among other things, make delicious honey. You can pick up a three-pack sampler and try a few of their delicious happybee-made honey selections.
Good For: Tea Junkies, Honey Lovers, #SaveTheBees People, #LocalShoppers, North Country Folks
White Mountain Forager 100% Pure Chaga Tea
By: White Mountain Forager, Gorham, NH. Local as heck.
"Synchronized with the public's growing knowledge of the health benefits of "eating wild" White Mountain Forager has an ever expanding list of satisfied customers. And beyond simply enjoying the fruits of nature, White Mountain Forager customers can also rest assured that all their concerns regarding harvest techniques, source point pollution, and landowner ethics are being strictly adhered to. As a Conservation Officer Doug worked side by side with landowners for many years, with the goal of protecting and conserving our local habitats. White Mountain Forager embraces these same principles."
Good For: Amateur Mycologists, Professional Mycologists, Tea Addicts, Locals, Just Visting, #CoopPeople, #LocalLovers.
Brewery Ommegang's Mother of Dragons
By: Brewery Ommegang, Cooperstown, NY.
How could anyone in the Seven Kingdoms possibly craft a brew fit for Daenerys of the House Targaryen, the First of Her Name, The Unburnt, Queen of the Andals, the Rhoynar and the First Men, Queen of Meereen, Khaleesi of the Great Grass Sea, Protector of the Realm, Lady Regnant of the Seven Kingdoms, Breaker of Chains and Mother of Dragons? The Belgian-styled cool kids at Brewery Ommegang in Cooperstown, New York are doing their best to find out with their entry in their "Game of Thrones" Royal Reserve Collection series — Mother of Dragons. "Brewed and blended for a leader who takes what is hers with fire and blood, Mother of Dragons is a blend of smoked porter and Belgian kriek, representing the smoke and fire that Daenerys has unleashed on her opponents. […] Mother of Dragons pours a deep ruby-tinted mahogany with a creamy tan head. Aromas of chocolate covered cherries intertwine with subtle smoke and roasted malt. The flavor is rich with tart cherry up front leading to a center palate of semi-sweet chocolate then resolving to subtle smoke and mild sweetness. The mouthfeel is luxuriously creamy and full, and the finish is semi-dry with lingering notes of smoke and cherry sweetness. Mother of Dragons is 6.5% ABV and pairs well with smoked gouda and charcuterie, braised meats, and rich desserts like flourless chocolate cake and cherry cheesecake." You can grab a bottle of Mother of Dragons for the long winter ahead now at the Littleton Food Co-op. Please Enjoy Responsibly.
Good For: Beer Nerds, Jon Snow.
White Mountain Images Calendars or Puzzles
By: Chris Whiton, White Mountain Images. Local, beautiful, fun.
Full disclosure: Chris is one of ours, our Operations Manager, so we may be a bit biased — but, you can't beat this guy's eye. His calendars are a hot-ticket item locally, from here to Harmon's. Twelve months of beautiful North Country scenery to light up your home or office space. The puzzles are a new venture &  well worth it — these puppies are handcrafted on wood by a local puzzlesmith.
Good For: #LocalLovers, Just Visiting, People Who Calendar, Puzzlepeople.
Burts' Bees Facial Cleansing Towels
By: Burt and his Bees
I'm a shower face washer, some people like to wash their face twice daily. Some people use makeup and need to clean it off their face before bed. These are great for that — especially if you have super sensitive skin. No acid. Powered by cotton extract. Unscented or lightly scented with something natural.
Good For: People with faces that need cleansing, people with faces that may need cleansing sometime in the near future, stocking stuffers.
Angry Goat Pepper Co. Hot Sauces
By: Angry Goat Pepper Co, White River Junction, VT. Local. Spicy.
"We are the exclusive makers of 12 incredible flavors of hot sauces and 9 delectable flavors of pepper jams. Our pepper jams are what put us on the map, and once you try them, you will know why. We have flavor combinations that no body else has, and a few of our unique flavors came from our customers requests. New for 2017, we have introduced 2 new hot sauces and our first mustard. There is a heat level for everyone." Delicious local heat for all.
Good For: #LocalLovers, Spice Junkies, Scoville Scalers, Sweet and Spicy People.
Sage Spirit Smudge
By: Sage Spirit, Lindrith, NM.
Native American Owned & Operated.
Good For: Friends dealing with ~*~bad vibes in their space~*~, Spiritual People, #CoopPeople.
NORPRO Stainless Steel Drinking Straws
By: NORPO. #ReduceReuseRecycle
Imagine this: you're a turtle. A sea turtle. Swimming along in the ocean, minding your own turtle business. You don't have any time to be assaulted by disposable drinking utensils. You're a busy turtle. These rust-resistant stainless steel drinking straws from NORPRO keep your turtle-self safe from the dangers of straws floating aimlessly through the ocean. If you're a serial straw-user but you're starting to feel kind of icky about your disposable straw use, these are the solution for you! Includes a cleaning brush.
Good For: Zero-wasters, Waste Reducers, #CoopPeople, Straw People.
Maine Beer Company Single-bottle Craft Beer
By: Maine Beer Co, Portland, ME. Local. Beer-y. Delicious.
Two brothers, Everglades National Park, an off-mention about starting a brewery. The rest was history. Delicious Maine-made Beer. Crafted by two brothers and their love of beer.
Good For: #LocalLovers, Beer People.
Still Stumped? More Ideas!
Ines Rosales Wine
Winnipesaukee Chocolates
Kathy Shuster Animal Print Cards
Blake Hill Maple Onion Jam w/ Shelburne Farms Cheddar
Harbison TOGOWare Snack Stack
Bauderlaire Sisal Wash Cloth
Jarware Fruit Infusion Lid
Jarware Honey Dipper
Jarware Tea Infuser Bee's Wrap
Moon Phase Calendars
Little Lad's Popcorn
Krin's Bakery Coconut and Honey Macaroons Dipped in Dark Chocolate
Elmore Mountain Farm VT Goats Milk Soap
Nutty Steph's Themed Chocolate Bars
Sweet Baby Vineyard Amarone Red Wine
Still Thyme Holy Basil
VT Salsa Co. Salsa Verde
Valicenti Pasta Farm – Golden Grazy w Butternut & Parmigiano
Mary's Gone Crackers
Bo's Bones Gourmet Organic Dog Biscuits H
Honeymaker Blueberry Mead
Clementines!
Marcona Almonds
Unreal Milk Chocolate Gem
Unreal Crispy Dark Chocolate PB Cups
Maple Medicine: VT Maple Fire Tonic
The Wilderness Map Co. – Franconia Notch
White Mountains Waterproof Trail Map Explorers Guides – 50 Hikes in the White Mountains
Need help finding anything listed in the gift guide? Visit the Service Desk! They'd be happy to help connect you with whatever you're looking for 🙂
The original version of this article appeared in the Fall / Winter Print Edition of The Radish. Read the rest here!