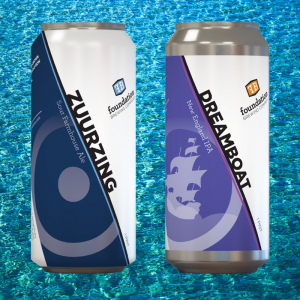 New to the Co-op this week – we're featuring two new beers from Foundation Brewing Company of Portland Maine!
One of their offerings is Dreamboat, which is a New England IPA featuring Columbus and Eureka! hops and their first IPA brewed with an American Ale yeast. Dreamboat pours a golden yellow with a pronounced haze. The soft mouthfeel is like floating on clouds, with no bitterness and flavors of pineapple and resin, with a dank backbone.
We're also carrying Zuurzing, which is a farmhouse ale soured with Lactobacillus, and provides a delightfully tart, tangy and crisp, citrusy flavor. Foundation uses a proprietary Belgian yeast to ferment this beer, and uses a blend of American hops to enhance the citrus notes.
Look for these new 4 packs in our warm section at the Co-op!