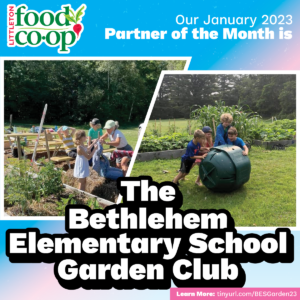 Our January Partner of the Month is the Bethlehem Elementary School Garden Club!
Bethlehem Elementary School (BES) took over Bethlehem's Community Garden in 2019. Due to the passion and hard work of Carole Bays, Kristin Bruno, and June Carr, the garden has become an integral part of all that they do at BES. The curriculum has been created to integrate the Common Core State Standards into authentic learning opportunities for our students. What started as a small group of student leaders has grown to over fifty students becoming part of their after-school program. Older students have had the opportunity to mentor younger students which truly enhances the social-emotional learning of all students.
Once they have enough money to build their greenhouse (they are close thanks to a grant from Acadia National Park), their dream is to extend this passion to their maple sugaring project. Building a sugar shack will offer additional authentic learning opportunities and also develop their students' appreciation of local resources.
We can make dreams like this come true just by rounding up at the register each time you shop at the Littleton Food Co-op!
How We Help Local Organizations
The Co-op helps local organizations raise funds and awareness in a number of ways:
Round-Up: Customers paying with a credit or debit card may round up their purchases and the balance goes directly to the Partner of the Month.
Donation collection boxes with partner branding are placed at each register.
Messaging about our partners is included in our weekly e-newsletter, social media posts, on our website, and in our weekly newspaper ads.
Posters and flyers are displayed on our Community Board and around the store.
Opportunities to meet our members, including info tables, grocery bagging, and other events.
Meet the 2023 Partners of the Month!
Our Members chose the following organizations to be our 2023 Partners of the Month:
January – Bethlehem Elementary/Garden Club
February – Women's Rural Entrepreneurial Network (WREN)
March – Affordable Housing, Education, and Development (AHEAD)
April – CCFHS/Response to Domestic & Sexual Violence Support Center
May – Believe in Books Literacy Foundation
June – Copper Cannon Camp
July – The Pemigewasset Valley Search & Rescue Team
August – Ammonoosuc Conservation Trust (ACT)
September – Veterans2Veterans Group
October – Littleton Food Co-op Community Fund
November – Local Food Pantries
December – New England Disabled Sports
How Our Partners Are Chosen
Each year during the Summer we accept applications from local organizations, and our Members select the final Partners by popular vote. Voting is held online and we have paper ballots available as well. Only full or partial Members may vote by casting a ballot, and one vote is allowed per Membership.
The organization with the most votes gets first choice for their preferred month. Then the next organizations choose their preferred month, in the order of votes earned. We divide the organizations into categories each year so that there is a diverse variety of groups being supported; if any categories are not represented we choose the organization with the most votes within a category and add it to the final list.
We reserve months to raise funding for the Littleton Cooperative Community Fund as well as area food pantries. In the event of an emergency situation that needs funding, we will contact the Partner for the month to see if they are willing to forfeit Round-Up earnings for three days.
Please note that organizations may not be a Partner of the Month for more than 2 consecutive years, but are welcome to apply in the third year.
If you have questions about our Partner of the Month Program or would like to apply, please contact our Community Outreach Coordinator, Becky Colpitts, at bcolpitts@littletoncoop.org
Apply to Become a 2023 Partner
The deadline to apply for our 2023 Partner of the Month Program is August 15, 2022. If you're interested in finding out more about our program or would like to become a Partner, please e-mail bcolpitts@littletoncoop.org.
Qualifications
Partners must be:
Locally focused
Socially and environmentally responsible
Non political & secular
Located within 30 miles of Littleton
Be a 501(c)(3) non-profit, or under the umbrella of an established 501(c)(3) organization in the area
Have a tax identification number
The mission of the organization should align with the Co-op's mission & vision
Have a plan for using any funds raised if selected
Please note that organizations may not be a Partner of the Month for more than 2 consecutive years, but are welcome to apply again after that.
How Partners Are Selected
Each year our Members choose 8-10 organizations for our Partner program via popular vote. We want our Members to make an informed choice and also learn about the great work being done in our community, so we put together lots of promotional materials about the candidates, post flyers in the store, share posts and videos on social media, include information on our website and in our e-newsletter, and we also offer the opportunity to set up a table during our Partner of the Month Fair.