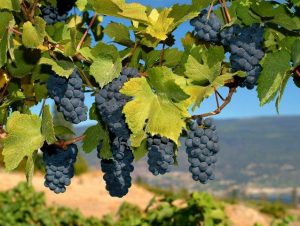 Littleton Food Co-op is working with locally-owned Pearl Lake Distributors to bring Cooperatively-sourced Organic Italian wines to our shelves. Cantina di Montecarotto (shortened to Moncaro) was formed by some family farmers in 1964 to share resources and growing techniques. Eventually they opened what is now the original Moncaro winery in the 70's, and have since expanded to 3 wineries.
Traditionally, most farmers would own a few acres of their own vineyards, which were then harvested to make wine at home. By banding together in a co-op, the farmers could instead sell their own grapes for a good price, working their own land and being paid fairly for their work.
Each farmer family in the co-op gets one vote, whether they own 1 hectare or 1000. (Most own 1 to 2 hectares, with an estimated 1,000 owners.) Each year, co-op owners sell all their grapes to the co-op, which is committed to buying them. Quality standards determine the price, which is higher than the market price. The owners elect a board to run the co-op.
Moncaro farmers have been cultivating organic grapes since 1980. The co-op works on innovative projects to help the environment in collaboration with the University of Ancona; current projects include studying new cultivation techniques (using seashell extracts in place of copper on the fields) and finding new production techniques to reduce the use of sulfites. They use an innovative system to recycle waste water and also recycle other materials, and use renewable energy at the winery. And they are certified as a socially responsible work environment.
We have a few varieties of Moncaro wines in the Co-op now and we'll be adding more as time goes on. This is yet another way that your Co-op works with other Co-ops to help small family farms survive! Stop by and taste some of these wines at the Littleton Food Co-op on Saturday December 21st from 12-3pm.