THIS EVENT IS SOLD OUT
Reminder: If you have a ticket, be sure to bring it with you to the event, since seating is limited!
---
We're kicking off Eat Local Month with a fabulous free movie and a celebration of local food and farmers!
We are pleased to present the premiere evening for Biggest Little Farm, one of the most popular and acclaimed independent films this year. Before the show we'll have a fabulous red carpet reception, so dress up in your barnyard best – overalls, boots, bling, mud, and sequins! Meet local farmers and enjoy an array of summery hors d'ouvres sourced from Meadowstone Farm, along with a cash bar provided by the Colonial.
This event is free and open to the public. Seating is Limited! Tickets will be available starting Friday July 12 at Littleton Food Co-op.  Stay tuned for details on specific movie times and reception details.
Synopsis
A testament to the immense complexity of nature, The Biggest Little Farm follows two dreamers and a dog on an odyssey to bring harmony to both their lives and the land. When the barking of their beloved dog Todd leads to an eviction notice from their tiny LA apartment, John and Molly Chester make a choice that takes them out of the city and onto 200 acres in the foothills of Ventura County, naively endeavoring to build one of the most diverse farms of its kind in complete coexistence with nature. The land they have chosen, however, is utterly depleted of nutrients and suffering from a brutal drought. The film chronicles eight years of daunting work and outsize idealism as they attempt to create the utopia they seek, planting 10,000 orchard trees and over 200 different crops, and bringing in animals of every kind– including an unforgettable pig named Emma and her best friend, Greasy the rooster. When the farm's ecosystem finally begins to reawaken, so does the Chesters' hope – but as their plan to create perfect harmony takes a series of wild turns, they realize that to survive they will have to reach a far greater understanding of the intricacies and wisdom of nature, and of life itself.
Click to Watch the Trailer: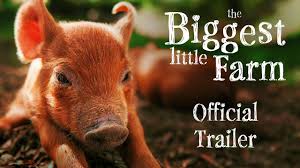 Critical Reviews
This documentary may rid you of your fantasies of farm life, but it may also revive your wonder at the weird but ultimately awe-inspiring ways in which humans can help nature do its work. Glenn Kenny, The NYTimes
This powerful, deeply personal documentary is both a memoir and an exploration of the Chesters' quest to make their dream of living on a fully sustainable farm come true. Sandie Angulo Chen, Common Sense Media
Special thanks to our Sponsors and participating farms for helping us with this event!