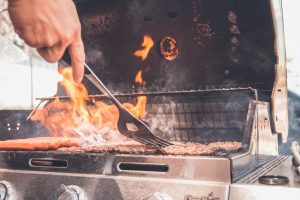 Grilling has practically become synonymous with the Fourth of July in American culture. In fact, about 75% of American homes have a grill. If you don't have your own fond grilling memories, it doesn't take much screen time, whether it's on social media or television, to find someone else's. However, it becomes difficult to distinguish one person's meal from another (is that picture from a box-store tv commercial or my neighbor Rob?). It's all various meats in various shapes, maybe a couple veggie skewers, and an ear of corn if you're lucky. This gave us an ambitious idea: is it possible to grill every part of a Fourth of July barbecue? After sleepless nights of research, we reached the verdict:
Yes.
It is possible to grill every part of a Fourth of July meal.
And we mean every part. 
Read on for ways to serve a full course meal that no one will expect but everyone will love. We think that these recipes turn out the best when used with as many local ingredients as possible! Our selection of local products is constantly evolving, so stop by the Co-op before trying out one of these.
Appetizer 
Appetizers for the Fourth of July have a serious job to do. Bite-sized morsels throughout the day are the equivalent of crowd control at a rowdy concert. If you want to keep it simple and classic, opt for some chips and Grilled Corn Salsa. This option will take just 15 minutes of work to satisfy guests for hours. If you're looking for something heartier, Barbecue Meatballs take a bit more time, but produce a strong flavor that put frozen meatballs to shame. However, we know that this meal is a marathon, not a sprint. These Grilled Zucchini Wraps are a great low-cal way to silence those first cravings. Plus, they are gluten free!
Soup
We thought this course might require a slight modification to the laws of physics. How else would soup (a liquid) stay atop a grill (a solid)? Turns out, the trick is to break out the grill before the broth. This Grilled-Vegetable Gazpacho proves that soup does not have to hide in the warm months. The link also includes recipes for other soups, but we chose the cold soup to complement the (hopefully) warm weather on Independence Day. 
Salad
As far as grilled salads go, a romaine grilled salad is pretty traditional. This Grilled Caesar Salad  not only delivers on the traditional flavor, but it is also gluten free and vegan, as the dressing uses hemp seeds. The incredible flavors of this Grilled Kale Avocado Salad make us want to keep the grill out all year. It will definitely be hard to leave room in your stomach for other courses after you taste the delicious flavor (not to mention the key nutrients). 
Feel free to stop reading if you think salads only have lettuce and you don't like flavor. Okay, we didn't mean to be harsh, but we felt like this unique Grilled Eggplant Caprese needed its own warning. Plus, who wants to wait until the very end of the barbecue to eat the watermelon? This Grilled Watermelon Salad brings the summertime favorite into the mix earlier and with unexpected flavor. 
Main Course
Even among all the other amazing options you serve, your guests are truly anticipating the main course. Your best bet here is to go down the traditional path. But, this doesn't mean you're lacking options. 
Hot Dog
On Independence Day each year Americans consume 150 million hot dogs, according to the National Hot Dog and Sausage Council. There's no fun in having them plain, so try one Chicago Style or dressed as a Cowboy Hot Dog.  
Chicken
The Fourth of July is this basic weeknight meat's chance to show you what it can do. It can be part of a nostalgic classic, such as Grilled BBQ Chicken Wings. It can be between two buns, like in this Grilled Chicken Sandwich with Caesar-ish Dressing. It can even be on a stick, like on these Pineapple Teriyaki Chicken and Bacon Skewers
Beef
A beef patty is another American classic perfect for Independence Day. You can go the extra-classic route with a Bacon Cheeseburger with Caramelized Onions. This recipe has extra cheese, making it delightfully irresistible. The Inside-Out Blue Cheese Burger also revolves around the cheese –literally. The cheese is hidden inside the burger for an unexpected tang. 
Shrimp
Shrimp is another great thing served on a stick. In this Lemon Garlic Shrimp Skewer recipe the flavor practically screams "summer." For a more intense flavor, try this recipe for Jumbo Stuffed Shrimp which grills the shrimp in the shell. 
Pork
Pork is not everyone's festive go-to, but friends will forget any hesitation once they see these Bourbon BBQ Glazed Pork Chops. Or try it in a slider format, such a these Tennessee Pulled Pork Sandwiches. They require more of your time, but they will fly off the plate faster than you can name the recipe. 
Steak
The best way to compliment steak on the grill? Grill its counterparts! In Dry-Rubbed Flank Steak with Grilled Corn Salsa, these two distinct flavors connect for a powerhouse dish. If you want to focus on grilling the meat, this Sweet Onion-Marinated Skirt Steak will satisfy your grilling wishes and savory desires. 
For Vegetarians
Just because one of your guests avoids meat, doesn't mean they have to miss out on the grilling fun. They don't even have to miss out on burgers with this Portobello Peach Burger. An alternate option is these delicious looking Beer-Brushed Tofu Skewers. In any case, we recommend cooking all vegetarian options first on the grill to guarantee there is no contact with the meat option. 
Sides
No rightful summer party is complete without side dishes. Everyone's favorite starch can be dressed up as Grilled Ranch Potatoes, or its sassy sister the sweet potato can be diced up for Grilled Sweet Potatoes. Another classic grill accessory is grilled corn. The easiest way to add it to your meal is to pair it with this Lemon-Pepper Butter. If you want to incorporate more vegetables in the mix, try this recipe for Grilled Green Beans. 
Drink
This was the one component of the meal we were most skeptical about. Could it be done? Not only can it be done, it can be done well. For an option the entire family can enjoy, grill up this special Lemonade (never a sentence we thought we'd be saying). If you want to wow your adult guests, a Grilled Strawberry Cocktail is the way to do it. Grilling the strawberries deepens the flavor and makes them sweeter than we thought possible. 
Dessert
Perhaps nothing is more American than apple pie. But this Grilled Apple Pie a la Mode? It's as if a bald eagle in a flag-print top was jumping over the statue of liberty while holding a sparkler. A great alternative is Skillet Brownies, who's warm, gooey texture will make you wish they were the all-American dessert. On the other hand, Grilled Watermelon with Yogurt is a more refreshing dish with a slight tang. It's perfect for when you really can't eat anymore, but you really want dessert. 
If you feel at all overwhelmed by so much grilling, there's no need to fret! These recipes are great for any summer day. Happy Fourth, Cooperators!