America's favorite unknown holiday has fallen upon us. Did you know that more gifts are given today than any other major holiday? Okay, we made that up. But we didn't make up today's holiday (although we wish we could take credit for it). August 8th is National Sneak Some Zucchini onto Your Neighbor's Porch Day. This gloriously green holiday was born out of the simultaneous realization that zucchini grows bountiful right around this time and there is only so much zucchini one can eat. Farmers and gardeners alike came to understand that the best way to rid of their excess fruits of labor was to slip across property lines in the dead of night and leave the desired amount of zucchini on the recipient's porch. 
The problem with this method is not the delivery, because that's flawless. The issue is that everyone focuses on the ceremonial act itself and not what happens afterwards, specifically on the recipient's side. What are you supposed to do now that you have collected the ceremonial zucchini from steps outside your front door? 
Here are 5 creative ways to use zucchini this summer:
For many, this recipe won't come as a surprise or seem creative. Different circular vegetable imposters have been trying to invade the chip market for years. The great thing about this specific variety is the second main ingredient– the cheese. We won't say that the cheese makes up for the fact that you have to eat a vegetable, but it might make it a little easier to ingest (or convince hesitant family members). For those who want to dive into the world of vegetable chips this is a great place to start.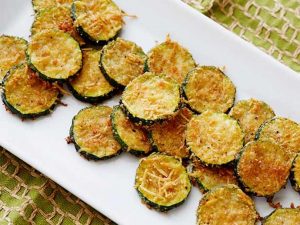 This recipe is like someone extracted all of the tastes you associate with summer from your mouth and put them in a dish– a summer salad dish nonetheless. This Shaved Zucchini Salad has notes of citrus, that fresh vegetable taste, and just enough pumpkin seeds to add an extra crunch and remind you that summer is ever fleeting. The addition of the macadamia nuts makes it a heartier salad without taking away from the citrus.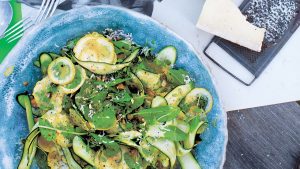 Zucchini-Herb Fritters are another way to introduce vegetables into more foods without making it feel like a chore. This recipe can be thought of as the best of both worlds; you can still enjoy your potatoes while getting a serving of vegetables. In addition, the sauce strays away from a greek yogurt sauce to a garlic yogurt sauce. The only indecisiveness around this dish is whether to serve it as an appetizer or side dish. 

Zoodles (zucchini noodles) is another food trend that has been trying to make itself mainstream over the past few years. What might turn people away from this idea is that it's tempting to leave the zucchini alone. However, zoodles cannot carry themselves like regular pasta. In this recipe, the zoodles are enhanced with a creamy avocado pesto sauce. The added tomatoes at the end give volume to the dish.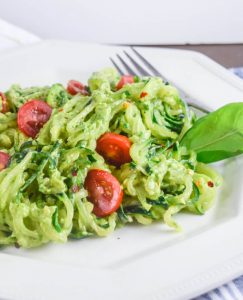 We've all had zucchini bread, but how many of us can say they've had a chocolate version of the classic baking treat? If you're looking for a way to sneak vegetables into the mouths of unsuspecting diners, this is the way to do it. You don't even have to tell them there are vegetables in it (as long as you can come up with an alternative source of the tiny green flecks in the bread). This recipe also exchanges traditional oils for applesauce to up the healthy ante.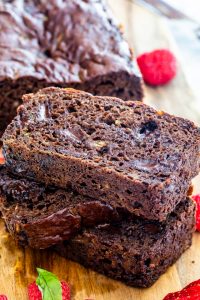 We hope this gives you some ideas to do with your newly gifted zucchini. Or maybe you've been inspired to have a smaller holiday so you can keep more of your harvest for yourself and try the recipes for yourself. Either way, we hope you have a great National Sneak Some Zucchini onto Your Neighbor's Porch Day!