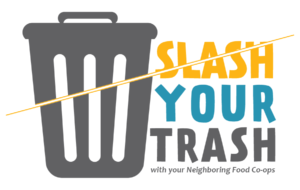 Act Now for climate justice! Join member/owners, employees, and customers of the Littleton Food Co-op in pledging to reduce waste and "Slash Your Trash!"
Did you know that the 292 million tons of waste (nearly 1,800 pounds per person every year) generated in the US in 2018 was primarily made up of plastics, paper, paperboard, and food?
As individuals and, working together as a community, we can take steps big and small to reduce our waste.
Participate with the Littleton Food Co-op community in April to Slash Your Trash! It's easily done:
Pledge to take at least one of the actions to Slash Your Trash by filling out a pledge card.
Pledge cards available in store at the Service Desk and registers. Remember to drop off at the Service Desk!! You may also print the pledge card below:
Slash Your Trash Pledge Card 2022 (1)
Make sure you put you pledge card in the ballot box at the Littleton Food Co-op's Service Desk to be entered into our raffles!
Pledge Participants Will Be Entered in a raffle on April 8th, April 15th, and a big raffle prize on Saturday, April 23rd at 1 pm. April 23 is also our Member Appreciation Day and Earth Day Celebration!. We will also be handing out seedlings to the first 50 pledge participants in store that day between 10 am and 1 pm.  
April 8 – Raffle Prize                    April 15 – Raffle Prize
April 23 – Grand Raffle Prize during our Celebrations!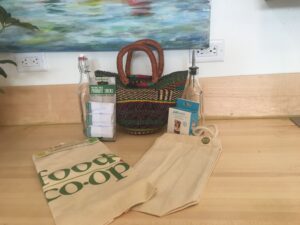 Share Your Experience! Use "#SlashYourTrash",  "#NeighborCoops",  "#ActNow" and "#LittletonFoodCoop" in social media posts.
Visit https://www.un.org/en/actnow/ and let the UN know what you are doing to #ActNow on Climate Change!
Put your own Green Tip up on the bulletin board in our cafe.