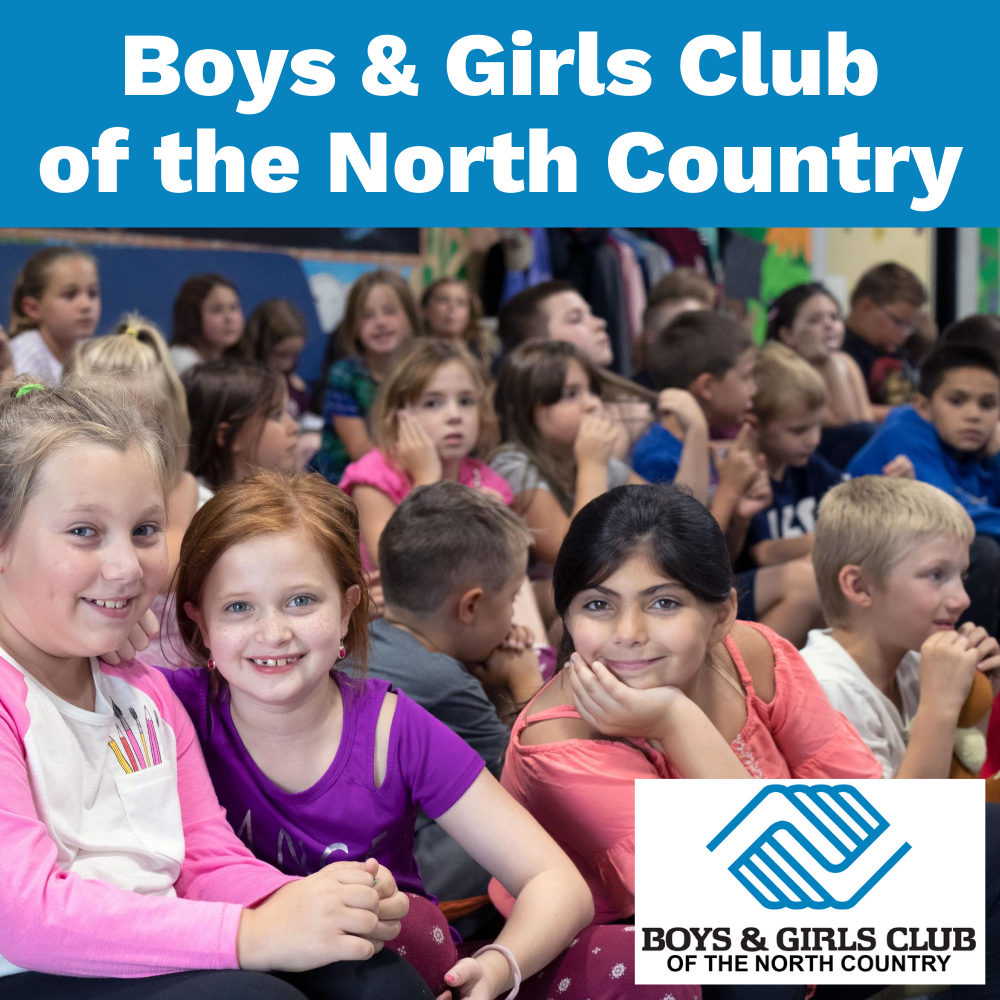 http://www.bgcnorthcountry.org
Our mission is to provide a Fun, Safe, Positive place for all children of the North Country, under the guidance of caring adults. The Boys & Girls Club of the North Country (BGCNC) was founded in 2005 in response to the pressing need for affordable, high-quality, after school programming in the North Country. Because it is our policy to remain affordable, BGCNC is one of the only afterschool options for most low-income families in our community. Through the BGCNC, we have been able to enrich the lives of youth who often fall between the cracks of other agencies.
Working families in our area rely on the Club for quality afterschool care for their children. Of the children we serve, 42% live in households below the National poverty level and 53% receive free or reduced lunch through school programs. Thirty percent live in single-parent households and 10% are in foster care or guardianship arrangements. Our members represent diverse backgrounds, socio-economic levels and family types, each facing a plethora of challenges in their homes and neighborhoods. Over the past four years, we have provided financial aid to 40%-50% of our Club members, annually. In the past year, this translated to $12,655 in financial aid and scholarships to ensure that no child is turned away, regardless of ability to pay. By ensuring affordable access, the Club provides a critical support system and safety net for low-income families.
BGCNC is more than just a safe place to go after school. We focus on developing the life-long skills needed to prepare children for futures as productive adults. When asked about their experience at BGCNC, members speak about teamwork, respect and responsibility. We offer creative opportunities and encourage a variety of physical activities that serve as a positive outlet where children can safely let off steam after school. BGCNC is a place where children enjoy active participation.
The BGCNC regularly collaborates with community partners on programs and activities. Some of our partnerships are with: Littleton Studio School, North Country Climbing Center, White Mountain School, Appalachian Mountain Club, Ammonoosuc Conservation Trust, White Mountain Science Institute, the Lisbon Police and Fire Departments, NH Fish & Game, Adaptive Sports Partners of the North Country, North Country Community Radio, Root to Rise and many more. These partnerships allow our members to explore their community and nature, learn new skills all while having fun and building self confidence.
Our children are the next generations of this country. Being chosen as Partner of the Month and receiving Partner Funds will significantly help us sustain our mission of providing at-risk children a mentoring program that will instill values to assist in their adult lives. Properly arming youth with resiliency and life skills, and helping youth to fully understand right from wrong, will allow our BGCNC kids to become promising members of society. Partner funds will be used to support the BGCNC financial aid fund for our Afterschool and Vacation Camp Programs. Our programs serve over 150 children between the ages of 5 and 15 from 17 surrounding North Country towns. The Club's goal is to ensure that area children and teens have a reliable place to go after school and during school vacations, as well as access to high-quality, evidence-based programs and services that will enhance their lives and shape their futures as productive, caring, and responsible citizens. At BGCNC, no child is turned away, regardless of ability to pay.
BGCNC Annual Report (PDF)
It's All About the Kids" Flyer (PDF)